I made this speech as part of the debate on the Overseas Aid Development Commission Annual Report. Fair Trade is close to my heart, having had a Fair Trade business for many years and my husband being a member of the Fair-trade Steering Group for over a decade.
Sir, I would like to thank the President of OADC for both this policy letter and the Annual Report. It appears to me that the Commission now has added impetus under her leadership.
I am particularly pleased that the remit for Fairtrade is now going to fall under the OADC and trust that this means that there will be renewed vigour in promoting Fairtrade within the States of Guernsey. Guernsey has the status of Fairtrade Island, something that visitors are made aware of when they arrive and pass through the airport. We can and should do more.
Unlike aid, charity or just doing good, the point about Fairtrade is it recognises the fact we are a global community and what we do can impact on those many miles away. Fairtrade looks holistically at the supply chain to address market failures and social impacts at source, but at the same time takes account of the need for profitability. It helps people help themselves, which in turn benefits us all.
Through agreed minimum prices, social premiums, direct purchasing, transparent and long term ptrading partenrships, co-operative not competitive delaings, provision of credit and market info to producers, democratic producer organisations, sustainable production and absence of slave labour, Fairtrade aims for an equality of exchange within a partnership approach.
Fair trade has proven to have a direct and indirect impact, increasing income, improving education, empowering women and preserving cultures. That leads me to an important point here and something that I think may be worth OADC considering. Indeed the President may have views herelf on this, and that is how and whether OADC could and should measure impact of the work that it does, qualitatively and quantitatively.
And finally, on that note, members will have read in 7.4.2 about support being given to Ugandan artisanal gold miners through a partnership between the Commission, 2 local businesses and Fairtrade Guernsey.
These funds helped to equip the miners with the required pieces of mercury-free gold technology, so that they were able to achieve Fairtrade gold status.
As an update, I was pleased to hear that the first ever shipment of African Fairtrade gold from Uganda was recently delivered.
This is just one example of the hugely positive work done by the OADC, and something we should be proud of.

Hi there. I'm Heidi Soulsby and I was re-elected a People's Deputy for the South East at the 2016 General Election. I was first elected to the States of Deliberation in May 2012 and during my first term I served as Chair of the Public Accounts Committee, Deputy Minister of the Health and Services Department and Member of the Scrutiny Committee, Constitutional Investigation Committee and Commerce and Employment Department.
In May 2016 I was elected as President of the Committee for Health and Social Care, under the new machinery of government. I am also Vice Chair of the Commonwealth Parliamentary Association Guernsey Branch Executive Committee and a Governor of the Board of The Ladies' College.
Hi there. I'm Heidi Soulsby and I was elected as a Deputy for SE District in Guernsey's general election in April 2012 and I am standing for re-election in 2016.
When I first stood for election, I said that I wasn't a typical politician. I hope that what you have seen over the last 4 years has demonstrated just that. Through my roles as Chair of the Public Accounts Committee, Deputy Minister of the Health and Social Services Department and the other positions I have held, I have strived to make a difference through common sense, drive and passion.
In my manifesto I want to demonstrate not only what I see needs to be addressed in the next term, but also how what I say can be backed up by what I have done in the last 4 years. We have seen lots of strategies developed recently, with many fine words, but what we need now is action. However, I believe we have to be realistic. I could produce a long list of all the things that should be done, but what we really require is a States of Guernsey that is focused. Unless we establish priorities, expenditure could easily spiral out of control, leading to growing demands for tax rises to pay for everything. This must not be allowed to happen.
That is why the theme of my manifesto is focus. We must focus on where Government can, and must, make a positive difference. This includes long overdue action on housing, essential public service reform and support for economic growth. However, above all, it means transformation of our model of health and social care. That is why, if I am elected, I will seek to lead the new Committee for Health and Social Care to ensure that the positive work done, since the last Board took office in October 2014, can continue without delay.
Welcome to my website. Here you can read my manifesto, hear about my life in the States and other matters, as well as sending me feedback and your ideas.
To download the printed version of my manifesto please click here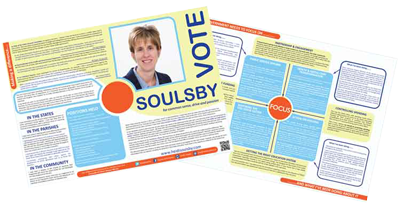 I was a signatory to the requete calling for the re-introduction of the reciprocal health agreement (RHA). It is clear many people believe it should be brought back and I was of the same opinion. Having done so, it resulted in work being undertaken to establish the possible cost and the likelihood of Guernsey being able to negotiate an RHA. It became obvious from soundings taken from the Ministry of Health in the UK that it was very unlikely that we would achieve one as the UK Government was looking to end the RHAs it had against a background of economic austerity. It has cut the number down from over 40 to 17 in recent years.
If we did manage to obtain some sort of RHA, the cover would not be very comprehensive and nothing like the one that existed before 2009. Indeed, from the research I have done it is clear that the RHAs for Jersey and the Isle of Man are of little value and it is quite possible that even these will be ended in the near future.
Of immediate concern is the fact that the UK has increased tariffs for overseas visitors by 50%, which affects Guernsey people directly and HSSD is beginning to be charged by some hospitals. We therefore need to focus our attention on reversing that, as well as following up on an amendment I supported in December 2015, looking at an insurance scheme for Guernsey people travelling to the UK, which would achieve the same purpose as an RHA for local people.
I am pleased I signed the requete, and it may be that a form of RHA may be brought in as a result of the work being undertaken, but ultimately, if the requete had been passed it would have raised expectations unreasonably and that is why I could not support it.
The following blog comprises speeches, comments and thoughts I have had since I became a Deputy. These have been classified into different themes and you can choose those which interest you from the column on the left. The most recent appear on the Home Page.
I made the following speech in relation to the Policy Council's report on co-ordination of work at the September 2014 States meeting.
Sir, I read this report and I have to say it left me scratching my head somewhat.
We hear that PC are
a. blaming the fact that there is no GSP for the reason they have a lot of work to do at once and
b. wanting more resources to deal with it.
Well, I find this rather puzzling at a number of levels.
Why, would a Plan make any difference? What is stopping PC from prioritising its workload and advising the States the reason behind this? Getting approval as a consequence?
Members will know that C&E has a number of areas of legislation related  to employee rights that require development. There are 7 in fact from the Industrial Disputes, disability and inclusion, maternity and paternity, age discrimination, racial discrimination, statutory rights to redundancy pay and statutpry rights to paid leave. But, we like PC have limited staff to undertake them. We have therefore prioritised this work.
I am also concerned that, should all this work be done at once, who is going to implement them all at once? If PC get more staff, will the Departments?
I would question whether everything does need to be carried out all at once, and where policies and plans overlap various Departments, which invariably they do, can they be, or should they be?
Finally, I would like to ask the Chief Minister how the creation of new posts will impact on FTP savings banked to date in terms of posts saved and vacancies now filled?
I have finally managed to do a write up on the conference that I attended August/September last year. It is pretty lengthy so has been added as a pdf file here. However, it was a pretty full on week and there was some very useful information.
Also attached are a couple of pictures of Deputy Sandra James and myself in full flow during the conference.
59th Commonwealth Parliamentary Conference 2013
I supported the amended requete on the accountability of the civil service. Here's my speech.
Sir. It seems a long time ago that I signed this requete. Oh It was – over 4 months ago. Since then England cricketers have won the Ashes, a Scottish tennis player has won Wimbledon and Guernsey footballers have won promotion and started playing a new season.
I signed the requete back in May because of my concerns about the accountability and political oversight of the civil service arising from the changes that have led to the growth of what is becoming known as 'the centre'.  Contrary to what the Chief Minister said yesterday, there has clearly been a growth of work done from the centre. FTP and SAP are just 2 examples. However, that doesn't mean I believe centralisation is wrong per se.  Having been a Chief Operating Officer myself, developing and running centralised operations, I completely understand the practical benefits and why there is a trend for 'central teams', at least in some areas. The centralisation of certain services, such as income collection and payment processing  should bring benefits – eventually.
The following is an extract from a Media Release quoting the Chief Executive at the time of restructuring within Treasury & Resources and following the departure of the Chief Officer of Treasury & Resources last year;
"There has been a great deal of managed change in the civil service since the last Machinery of Government review, and from the beginning of 2011 that pace has accelerated. The drive for efficiency, corporate delivery and accountability is at the heart of these changes.
It is clear that change has happened, whether this has led to more efficiency, corporate delivery and accountability is debatable, and as I stated during the GSP debate, the change management process has left a lot to be desired, which has been particularly evident in the FTP and SAP implementations.
My concern is that centralization is all well and good, but this brings with it a greater need for transparency in terms of responsibilities and accountability in relation to outcomes and I will elaborate on this further in a minute.
Since the Requete was signed  we have debated the Government Service Plan and Strategic Asset Management Plan. It was clear from both debates and the successful amendments that many in this Assembly shared the concerns about the accountability and political oversight of proposed committees of civil servants tasked with taking forward each plan. Not only that, but the SAMP had it not been amended, would have resulted in a relocation of the chief officers without proper consideration of what the impact would be operationally and politically.
I believe that life has moved on since the requete was placed and therefore welcome this amendment placed by Deputy St Pier, which I believe sets the right direction on where we need to go from here.
I won't go through each one of the propositions but would like to comment on the one that I am pleased is retained in substantial form from that in the requete and is the reason why I signed it back in May.
Proposition 6 directs that, where appropriate, there should be internal service level agreements within the States of Guernsey, including in respect of services provided by the Shared Transaction Service Centre ("the Hub"), in order to provide for clear definition of responsibilities and clear lines of accountability.
Service level agreements have been defined as the means by which two parties communicate to each other their commitments in relation to the resourcing and provision of services to a given level, over a given period.
So what does that mean in practice? Well, here I set out the purpose of the service level agreement in place between the Johns Hopkins Accounts Payable Shared Service Center and its customers.  It states that the SLA will:
outline services to be offered and working assumptions between the Shared Service Center and its customers;
quantify and measure service level expectations;
outline the potential methods used to measure the quality of service provided;
define mutual requirements and expectations for critical processes and overall performance;
strengthen communication between shared service providers and its customers;
provide a vehicle for resolving conflicts.
And it is not just about quality of service. Organisations have found that they have made cost savings of between 5-40% by introducing SLAs.
But what is the best thing about bringing in SLAs is that developing them requires collaborative working and if we are going to see long lasting effective change in the States of Guernsey we will only see it through working together. SLAs should be standard for centrally provided services and any central operational body should be subject to a service level agreement. This whould include those tasked with the proposed central committee mentioned in the Strategic Asset Management Plan, and should have been developed at the start of the Financial Transformation Programme.
There seems to have been some idea promulgated that those signing the requete are conspiracy theorists – that there is a plot by the centre to take over the States of Guernsey. That tone was evident in the paper we received about the ELT yesterday as well as from the Chief Minister's speech.
Well, that's not why I signed this requete. I signed it because I felt greater accountability was required arising from the major organisational changes that have taken place in the civil service, thus enabling the States of Guernsey to deliver greater value for money.
So I would respond to the Chief Minister when he reminded those, like me, who stated in their manifesto that they wanted to see joined up government and more openness and transparency, that is precisely why I supported the need for more accountability through Service Level agreements in the requete  and why I am happy to support this amendment now.
I would therefore urge Members to do the same.
I spoke in support of an amendment against a particular resolution of the SACC report where, in effect, it stated that it was not possible to support a matter where it went against your interest. Here's my speech.
I have to say, when I read the proposed changes to rule 15(1) I did wonder whether SACC was more concerned with following classical ideals than in enabling Departments make informed evidence-based decisions. I wonder whether they might agree with Plato, who believed guardians, who ran society should not own their own property, should live in barracks and have their children raised separately so they would not be affected by any potential conflicts of interest. Having seen the number of those who stood up during the population debate to register their property interests I don't think this would go down terribly well here.
I do have concerns that in the quest for purity of decision making SACC have gone too far here and that a bit of common sense is required.
How can it be wrong to allow someone, to vote for something that actually goes against their interest?  Surely, the purpose of identifying and dealing with conflicts of interest is to not put a member in a position where perception is that he or she is seen to benefit? Surely by definition where you are not supportive of something that goes against your interest, you are nullifying any conflict?
At the same time we are excluding those that may have more knowledge in a particular area than others on a Board and can impart their real life experiences of the matter in hand so enabling Board members to make informed decisions. What can be wrong with that?
I therefore ask members to  support this common sense amendment.
I was pleased to support Deputy Fallaize's amendment to the Government Service Plan and delighted that it was passed. The reasons why it required amending are set out in my speech below.
Sir, It might be considered either very eager or a bit sad, but I actually thought it might be a good idea getting hold of the book referenced in the report – Paul Joyce's work on Strategic management for the Public Services – this little red book.  It cost me the princely sum of £1.09 from a well known online retailer btw. Whilst not stated in the report, this work is now  14 years old. So the whole idea of strategic management in the public sector isn't new. And the concept of  long term vision and short to medium term strategy very much understood globally.
Now while I admit this is quite a dry subject and I would not recommend it if you want an exciting read, the book makes some useful points that are not brought up in this report but which I believe highlight the problems with the approach being taken.
A key point Joyce makes is that Strategic management is a challenging process for top managers. This is not because of the basic theoretical ideas of strategic management. It is the execution that is challenging. And he goes on to say that – the central challenge is to make desirable goals, external support and organisational capacity fit together.
Strategies are certainly not to be simply equated with statements in written business plans and strategy documents, they require effective change management.
And funnily enough, when I was ordering his book on Strategic management I found out he had already written one on that very subject – Strategy in the Public Sector – A Guide to Effective Change Management. So I thought I would get that one too – and this one cost me the grand sum of 1 penny.
A clear theme running through both books is that effective change management requires involving and communicating with those internal and external to the organisation and I think the importance of the first is particularly relevant in the context of this debate and so I will focus on that.
Joyce states that it is necessary to engage managers and staff because, by their very nature, these organisations comprise people who have to be persuaded and convinced. Strategy therefore provides the rationale by means which leaders engage managers and staff in change, and win their consent.
In January's report on the FTP, paragraph 6.4 stated. The approach employed at the beginning of the programme proved problematic for several reasons. First of all, progress was slow because the importance of Departmental involvement had been underestimated and not all Departments were ready for the major change that was required to deliver the FTP. There was a lack of ownership and Departments felt that it was being imposed on them from the centre. Chief Officers felt that the original structure did not empower them to deliver the efficiencies within their
Departments were not always signed up to the projects identified and being developed as being those that represented the best opportunity for available savings within their Department.
A clear example of how you can't undertake transformational change unless you engage. As Joyce goes on to say, 'Simply publishing a strategic plan will not do it. It take unremitting work and relentless effort to make strategies real. People are only engaged by  a strategy if the managers work very hard at engaging them.'
In addition to the FTP, we also have the recent experience of the SAP implementation where a command and control method was again adopted from the centre. Those inside and outside the States are now suffering the consequences.
The question is, will it be third time lucky – will lessons have been learnt or will Departments have to go through pain and anguish all over again?
The terms in-house governance and support structure, centre of excellence and team of project and programme managers I am concerned that the same approach is being taken.
I don't have comfort from this report that lessons have been learnt and I'm afraid  this was reinforced at the presentation given a couple of weeks ago.
The word 'effectively' is used 3 times in paragraph 11.2.3. Well, there is nothing in that paragraph that reassures me that the process will be effective. It sounds like a central command and control centre yet again with no acknowledgement of the need to work with others. We are told there should not be an expectation that busy operational staff should be able to take on key strategic projects in addition to the day job. But what should our expectations be?
We are presented with what is seen to be the necessary structure to do the job, but where is the evidence ?
I am concerned that we are being driven down what is supposed to be a accepted way of doing something with little evidence that it is the right way and with an upfront cost of £255,000.
And that is my other concern.
Paragraph 11.1.3 states that a one-off resource is required. However, the timescale is not clear, neither are we given any detail as to what we are being asked to approve – What is the £120k technology development? That's a substantial sum.
We presently have every Department looking at making FTP savings. At a recent C&E Board meeting we went through proposals for forthcoming year where every service area was looked at in considerable detail to see where savings could be made and I don't think I'm wrong if I say that is being replicated across all other departments. Yet here, where a substantial sum of money is being requested,   I am presented with a table of figures with no details or explanation of any of the line of expenditure. I can't support that.
I am not against a Government Service Plan and I agree with some aspects of the report, which I will elaborate on in the main debate, but I don't believe I have enough information in this report to make an informed decision as to whether the approach being taken is proven, appropriate or to use the word of the moment, effective.
It is for all the reasons above that I fully support Deputy Fallaize's amendment and urge all other Members to do so.